Hydro Excavation Western Suburbs Melbourne
Offering Professional and Reliable Hydro Excavation Western Suburbs Melbourne Locals Prefer
Now, you can get safe and reliable hydro excavation Western Suburbs Melbourne locals prefer. Our non-destructive digging methods ensure accurate tunnelling, utility location, and slot trenching in Melbourne.
Our professionals offer hassle-free, risk-free, and cost-effective digging services. How do we make that happen? Through advanced non-destructive digging (NDD) machinery and drilling equipment! Our certified professionals have worked in different Western Suburbs of Melbourne including Airport West, Melton, Werribee, Caroline Springs, Footscray and others – so, reach out to us today. We also offer our services across local government areas including the City of Moonee Valley and Hobsons Bay.
Our Hydro Excavation Services in Western Suburbs Melbourne
Hydro excavation in Western Suburbs Melbourne doesn't have to be loud, destructive, and costly. Our company offers what commercial builders, infrastructure developers, and residents prefer – quiet and flawless digging services.
Our company has a team of certified hydro excavation machinery operators with years of experience. Let us help you assess your requirements to provide tailored services wherever you are in Western Suburbs Melbourne. Find out more about our hydro excavation services.
Non-Destructive Digging (NDD)
Require urgent support in your underground infrastructure project? We can help you locate delicate utilities like pipelines and CCTV lines underneath your project site. Our non-destructive and precise digging methods save time, money, and reduce the risk of injuries substantially. The team of certified professionals can help you locate utilities quickly and efficiently!
No matter your project, vacuum excavation is the perfect option for digging and unearthing underground utilities without damaging surrounding soil and environment. Pressurised water and high-tech suction systems prevent damage to surrounding infrastructure while prepping accurate footing and utility installation trenches.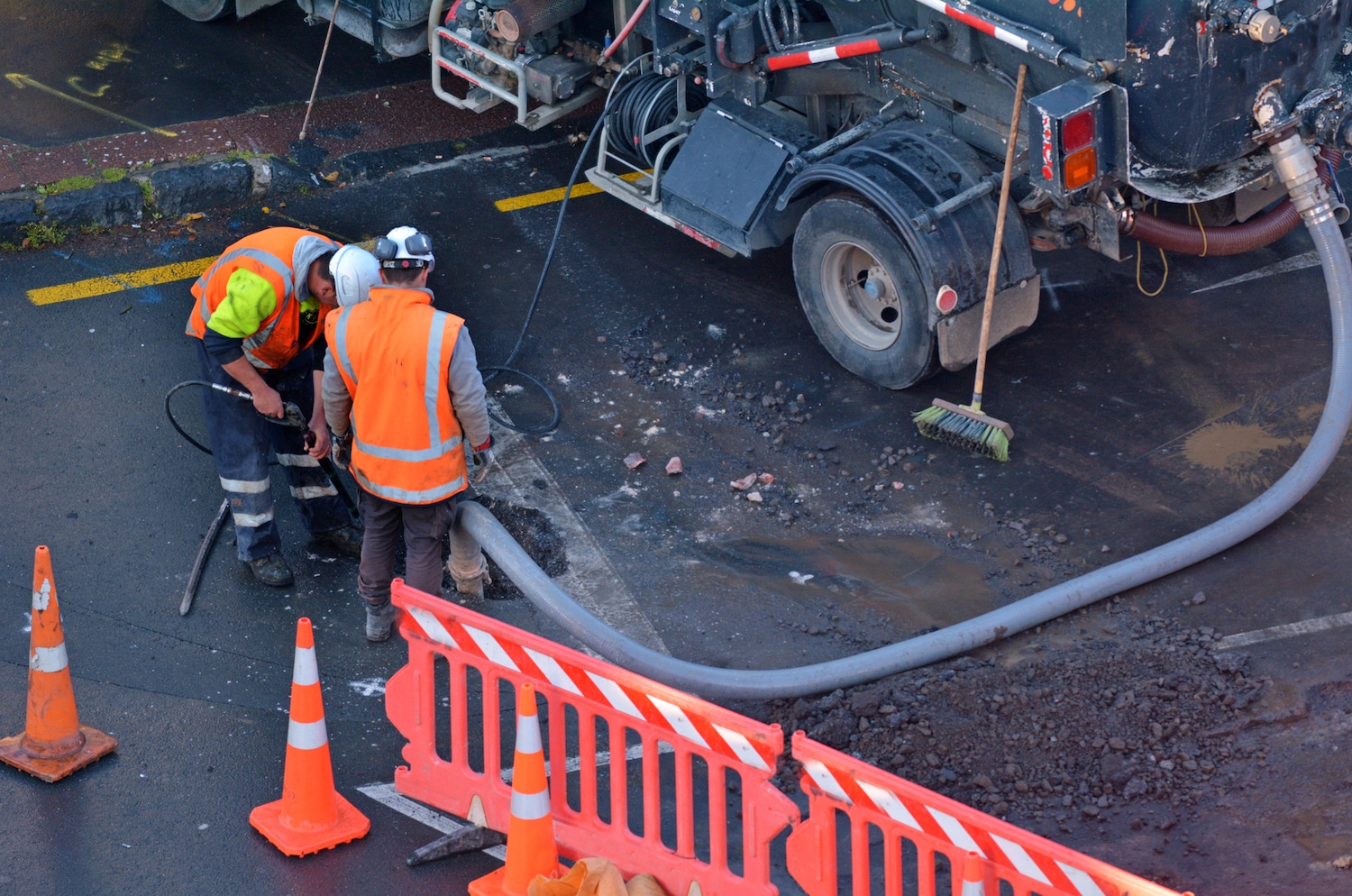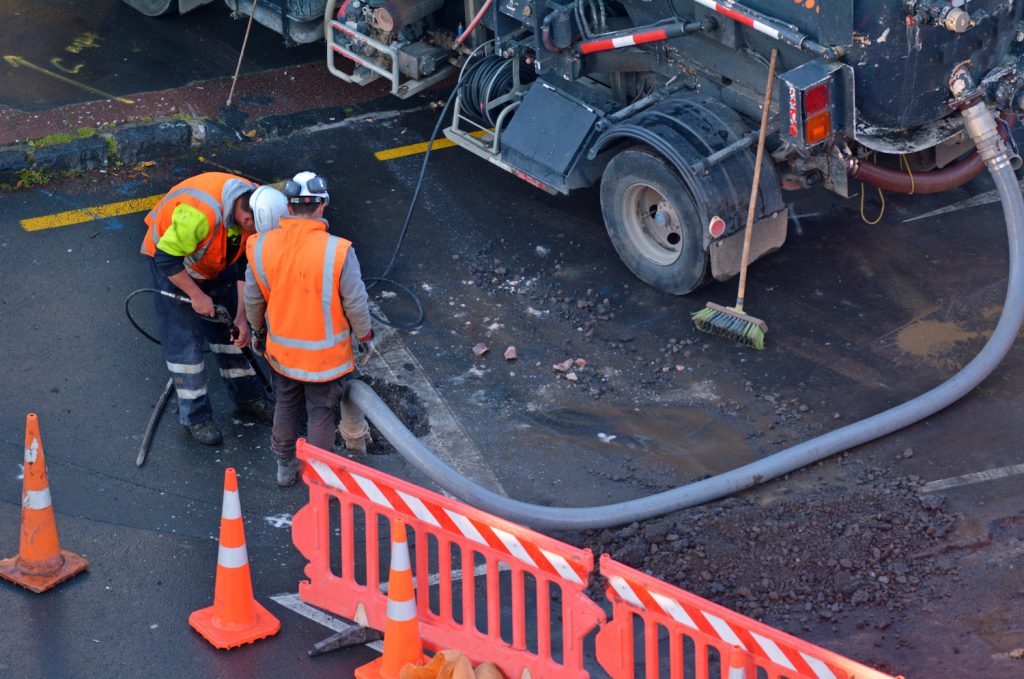 Our team has provided air vacuum excavation services in Western Suburbs of Melbourne for years. This method saves time and leaves little to no mess behind. By using pressurised air flow, we crack the soil in the targeted area. Then, our suction system pulls out all the debris so you can install footings, pipelines, or locate underground utilities.
Contact us for reliable hydro excavation needs across Western Suburbs in Melbourne!
The Pros of Hydro Excavation Services in Western Suburbs Melbourne
Why go for professional hydro excavation services in Western Suburbs of Melbourne? Because they are cheaper, safer, and quicker than traditional digging – which is also destructive!
We can help you conduct sewer inspection, tunnelling, and underground utility inspection and installation without making a mess. Our team of experts has been handling hydro excavation requirements of residents and occupants of Western Suburbs Melbourne for years. 
Minimal Manual Labor Requirement
Hydro excavation is a preferred method for underground utility installation and digging because it requires less manual labour. Since it requires fewer workers handling high-tech machinery, it costs less than traditional digging methods.
Safer Than Traditional Methods
Our services involve the use of a small but highly certified team of professionals. With fewer workers on site to handle complex machinery, the chances of accidents from manual labour are low.
Advanced Tech and Multi-Industry Uses
Team up with our certified professionals to take advantage of modern digging and piling machinery. We use the advanced technology to locate, install, and maintain underground utilities while keeping trees, soil, and surrounding elements safe from damage.
Contact our certified professionals to get a FREE quote for reliable hydro excavation services in Western Suburbs Melbourne!
Choose Safe and Certified Hydro Excavation in Western Suburbs Melbourne – Hire Us!
Make sure you work with trustworthy and highly reputable professionals when it comes to infrastructure development. Hydro excavation in Western Suburbs Melbourne is a game-changer for your big-scale infrastructure projects. 
We work with certified professionals with years of experience in utility installation, trenching, contamination spill clearing, and debris removal. We run thorough background checks to ensure client, company, and workers' safety.
We Offer Free Service Quotes
You can get a free quote for all our services with a phone call. Ring us today and talk to our trained professionals about your digging and infrastructure modification needs that involve hydro excavation. We will provide an accurate price quote for customised services in Western Suburbs of Melbourne.
Advanced Industrial Equipment
For years, we have stayed at the forefront of technological developments in our industry. We have acquired state-of-the-art digging machinery and potholing equipment for locals in Western Suburbs Melbourne. With high-tech machinery, we offer low risks and high safety. 
You can rely on our professional hydro excavation services in Western Suburbs Melbourne including local government areas of City of Moonee Valley and Hobsons Bay.
Need a Free price quote? Contact us now and get a quote for hydro excavation services in Western Suburbs of Melbourne!